Why Choose CleanZones for Your Soft Wall Cleanroom?
---
---
---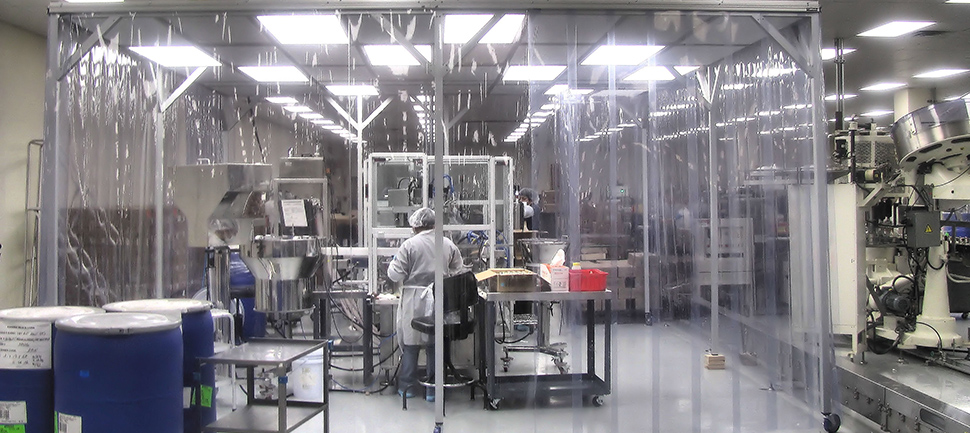 ---
Whether you need a softwall cleanroom for manufacturing, research or a combination of both, your list of demands is long. Optimal air quality means minimum dust particulate infiltration, and air quality is undoubtedly at the very top of your list. You also demand innovative and ergonomic interior design that maximizes human efficiencies, all within a space created by top quality materials, industry-leading fabrication techniques, as well as the very best in on-site installation. And because you have decided on what many people refer to as a 'portable cleanroom', as opposed to a more permanent installation, you also want site preparation that leaves a minimally disturbed 'footprint' that also ensures the year-round structural integrity of the facility. This means that cold climate installations must take into account seasonal change ground movement (commonly referred to as 'frost heaves'). Ideally, such a cleanroom can be installed quickly, which means simple and time saving, single point utility connections. Infrastructure systems such as air filtration, water, heat, lighting and more must be innovatively integrated into each cleanroom component to ensure a rapid start operation. Today, energy efficiency is also a top priority for many people, and this is certainly the case with you. Yes, you have a long list of demands for your planned installation that may be temporary, but should also be designed and built to last. The question now is: Why choose 'us' to provide you with everything you require in a soft wall cleanroom?
The answer to the above question, in short, is easy; it always makes sense to choose the leader in any industry because no company achieves the pinnacle of success without a high level of customer satisfaction, an achievement we attribute to the reasons below:
We have years of experience in the state of the art design, custom fabrication, and expert installation of air quality controlled environments
Your soft wall cleanroom will be constructed of the highest quality and most durable materials available
Our integrated infrastructure systems take full advantage of single point connection technologies you won't find elsewhere
Exceptional ergonomic designs allow for maximum manufacturing or research productivity and truly are 'second to none'
Unmatched expertise in structurally sound though minimally invasive site preparation in any climate
We place a special emphasis on soft wall cleanroom energy efficiency through the use of the most advanced, energy saving technologies, fabrication techniques, and new materials
Exceptional affordability – our low costs also account for our top leadership position in the industry
A long list of 100% satisfied customers from coast to coast and much more
We Know You Have Choices when it comes to 'Your' Soft Wall Cleanroom
We know your planned facility represents a relatively substantial investment, though, still considerably less than that of a more permanent structure. Whatever the cost, for superior quality in every way, you will always pay less when you work with our industry-leading company that leaves our competition far, far behind. When it comes to your long list of demands or criteria for your planned facility, you can rest assured that we, too, have an extensive list of design, fabrication, and installation quality control check systems in place to ensure that your soft wall cleanroom is the very best it can be.
By all means, do your due diligence. Compare company experience, reputation, costs and other determining factors, all of which (we're quite confident) will lead you to our door. Unlike so many other companies, we really do take pride in every project that bears our good name. Contact us anytime. We know you'll be delighted you did!
Please contact us so that we can provide the professional help. Our well trained and experienced staffs will more than happy to answer all your questions.